Kolak / Banana, butternut squash and jack fruit stewed in coconut milk *
September 03, 2010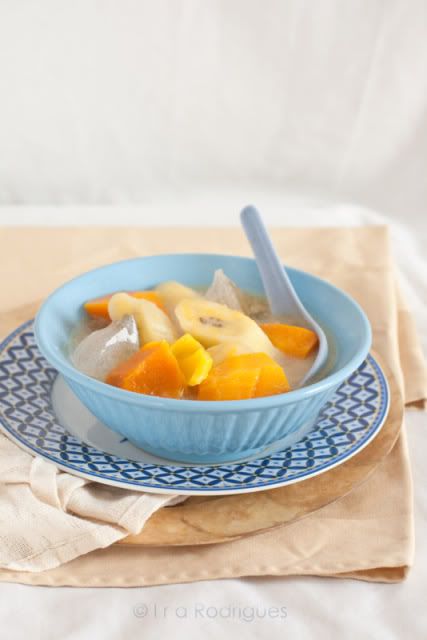 Kolak or Kolek is typical Indonesian dessert, it has a
wonderful fragrance from the pandan leaf and also has a unique taste that makes kolak stay in original flavour. Kolak is stewing fruits and vegetable in creamy coconut milk and are such a pumpkin, yam, cassava, palm seed (kolang kaling), banana and sweet potato. Most of kolak are smells so good somehow it's really appetizing too, by adding the jackfruit it created another special flavour. It is quite satisfied and you may comfort your afternoon tea time with kolak and it is perfect if its serve chilled.
I prefer my kolak is not too creamy nor too sweet, I made it just right according to my liking and absolutely it made my day !
Stewed Banana, butternut squash and jack fruit in coconut milk, Kolak
Ingredients
5 horns ripe bananas (I used pisang kepok) , cut to your desire
¼ butternut squash you can use pumpkin instead, diced to medium size
1 1/2 cup slice jack fruit
2 pandanus leaves washed and make a knot
½ cup coconut sugar or palm sugar,shaved (less

/

more according to your liking)
In a pot, bring the water to boil add in the pandan leaves, sugar and salt.
Add in the butternut squash or pumpkin, boil around 2 mins then follow by adding the banana slices, boil another 1 mins. *do not over cook them or the bananas and butternut squash or they are become too mushy
Add in the jack fruits then stir gently then pour in the coconut milk , stir occasionally, don't let it really boil, or coconut milk may curdle or separate,turn heat down and simmer a little while.
Serve chilled or Throw in some shaved ice when serving.
You may also like my other kolak recipe HERE