Spaghetti Aglio E Olio (Pasta With Garlic And Oil)
February 01, 2010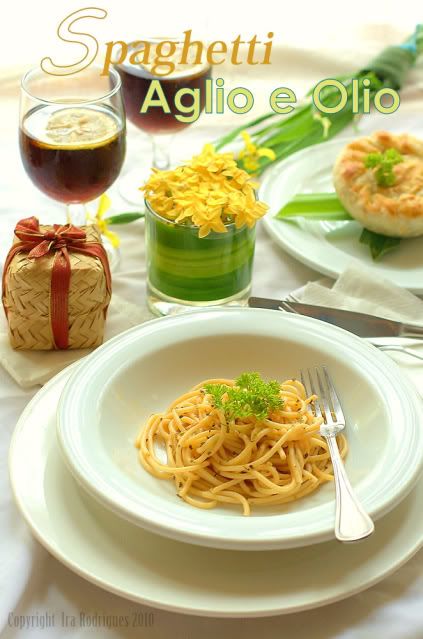 Spaghetti aglio e olio is one of the most classic Roman dishes, lets say is the one dish
that all Italian men know how to make.
Besides its very easy to prepare at the same time it's very healthy too.
For some reason of my cravenness I do have make a choice to make them as my side dish for my steak.
Ingredients:


2 1/2 teaspoons salt, divided
1 pound spaghetti
1/2 cup pasta cooking water
6 tablespoons extra-virgin olive oil, divided
4 tablespoons minced garlic, divided
1 teaspoon crushed red pepper flakes
1/4 cup parsley, finely chopped
2 teaspoons lemon juice
1/3 cup Parmesan cheese, grated
Warm a large serving bowl in a low oven.

Bring 5 quarts water to a rolling boil in a large pot. Add 2 teaspoons salt and pasta to boiling water, stirring to separate strands. Use the lowest package cooking time as a beginning point. Taste for tenderness and continue cooking if necessary. Reserve 1/2 cup pasta cooking water and set aside. Drain pasta.

Start sauce when water is put on to boil. In a 9- or 10-inch nonstick skillet, heat 3 tablespoons olive oil over medium-low heat. Add 3 tablespoons garlic and 1/2 teaspoon salt. Cook, stirring often, until garlic is straw-colored, about 5 to 8 minutes. Remove from heat and stir in remaining tablespoon garlic, crushed pepper flakes, parsley, lemon juice and 2 tablespoons pasta cooking water.

Transfer drained pasta to warm serving bowl. Toss with remaining 3 tablespoons olive oil and remaining cooking water. Add garlic mixture, tossing well to combine. Serve immediately with some grated cheese on the side.