Kimchi using western cabbage
December 11, 2008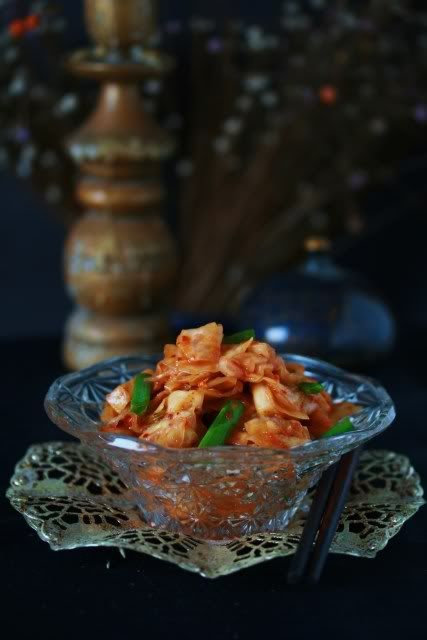 It is truly unfair if I did not posting my kimchi using western cabbage today...
Wondering why?
That because I purposely brought the red-bell pepper flakes **which is the key ingredient of kim chi, across the country from Korean cold storage in Dubai to Goa-India.

I would say that this is a great nibble especially for my husband who hates cabbage **but not napa cabbage a.k.a Chinese cabbage.

The crunchiness, the spiciness and the sourish come in the same time, I have to gives them a particular credit which finally demolish my curiosity and completely indulge myself.

I do positively think that you may try it out too!
Above all, perhaps you have a look for detail step by step here
Crunchy Kimchi
Ingredients

1 medium size of western cabbage
2 tablespoons Korean red bell pepper flakes
3 tablespoons fish sauce
½ teaspoon garlic paste
½ teaspoon ginger paste
6-7 springs of spring onion (segments)
1 tablespoon rice flour
Salt and sugar to taste

Method

Cut the cabbage into a nibble size and then wash them.
In the big bowl mix 3-4 tablespoons of salt with two glass of water, soak them for about an hour.
Using a colander rinse them well, set aside let it stand to take away all the excess water

Meanwhile, dissolve the rice flour with little water to a runny liquid.
In the small fire heat the mixture to thicken *do not boil, Set aside to cool.
Combine together red bell pepper flakes, fish sauce, garlic paste, ginger paste, salt and sugar then adding small quantity of water.
Add the starch of rice flour, stir them well.
Pour the starch over the segments cabbage and then add the segments spring onions
Mix them up until the sauces are perfectly blended.

T
ransfers into air tight container, pressing down lightly in the surface then lay a piece of plastic wrap to prevent the air entering during fermentations
then seal the container with its cover.
Store in the dark and cool place away from direct sunlight for three days
Chill them out before serve for better thrill