Me Featuring Martha's "Apple Pie"
August 13, 2008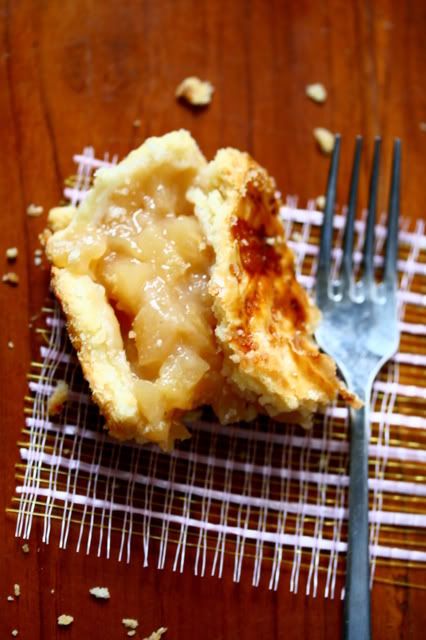 I actually extremely worried when I am reading, watching, hearing and writing about Baking, somewhat I feel tremendously pretty fortunate if I have an opportunity to do baking. I am certainly trying to convince my self to take it easy and confidence when suddenly my self facing one cutie mini portable oven in our place at now.

Thought of many questions were plot, what should I do? Where do I start from? What possibly make the thing works with my limited baking skill? Trust me, those questions have been highlighted of my true unconfident and self-doubting.

Making it sense as I have never wanted to missed the thing off since I do not have my own to do baking or whatever cooking through the oven. As we stay here running by visa as living in foreign land (India) consequently most of the rental flat here, oven is excluded sitting in the kitchen.

Well, at the moment I am quite fortunate having absolutely great couple of months staying at the place where oven is presented on hand. (Read issue here)
Frankly it's worth a lot for me to do kind of easy and simple baking in intend adjusting my self of learning and being not too panic even engraved off to so many crap questions earlier.

One of these day I felt terribly up-set when I craved at least kind of delightful savoury apple pie with tempting crush and aromatic lip-smacking filling, unfortunately I have got none here at this rainy season, what a pitiful …
Challenged my self whether I dare to make my own or just forgetting and let my self drooling over my imaginations. I forced my self! But not being super women even being shocking bakers, let me say exactly, "I encouraged my self not to worry about", anything could be possible, everything got a clue!
I was pretty much happy when I have got on line recipe HERE
I think it shouldn't be difficult as the recipe tells and compose in very clear sharp however direct to the point fairly.
Knowing that my skill too shallow doing kind of pro-baking but at least I have tried my own.

This is my first trial of making apple pie, even though I have to convert the ingredients and transformed the filling to more uncomplicated way.
I was being too much anxiety about the crust as I have no clue what the right crust in a proper way.

Putting forward of letting down my self it's not in my proposed though I was ready to get some pain even end up within dissatisfied or dump the thing off into the dust bin-I am however really dislike! Running on and off--up and down between my screen and my kitchen it was quite fun though! Placing the thing into anyhow foil tin doesn't mean I treated it so bad, being honest of self assuming that it may giving me kind of dissatisfied return then I am ready to off.
The fact, it was surprisingly awesome for a beginner's, I was however awesome!! Yay…**winking


I would say that it was paid off! I deserve better of my apple pie, I deserve delicious apple pie!
I know, I know…it sounds my self applause and praise my own home made apple pie, additionally it sounds I incredibly prove you that I dare to bake even in a very simple issue
(I am very confident this time!) **wink

I wish you are with me now my friend, so perhaps I don't need to attach the photos of my apple pie with lip-smacking crush.

Anyway, do the photos speak more than the words? May be could even describe?