Chicken Madness!
August 09, 2008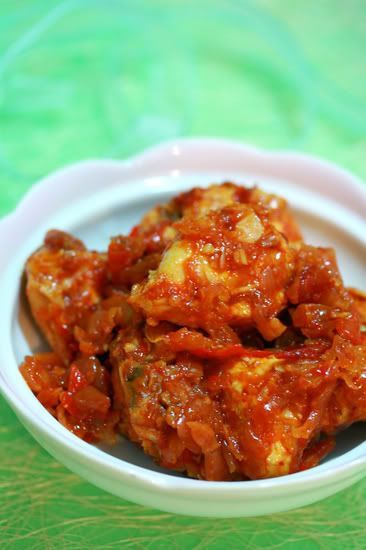 The idea of this recipe was crop-up when I am totally insane of messing up all the sauces, spices and such.
I was very much ignorant what should be packed at least at the same box or whatever container for me to get easy to find out and search. I am sure you'll know when we've got to shift to a new flat, we have got to pack in such a way of an extremely tidy to avoid massive stresses and tension.

I am however more to secure set for now (at the moment) of all my treasure cooking ingredients but of course after I putting my self in deliberately confusion and frustrating

Well I've got to stick to my Chicken Madness recipe, It"s actually made of unfussy ingredients, don't worry it is death-easy recipe.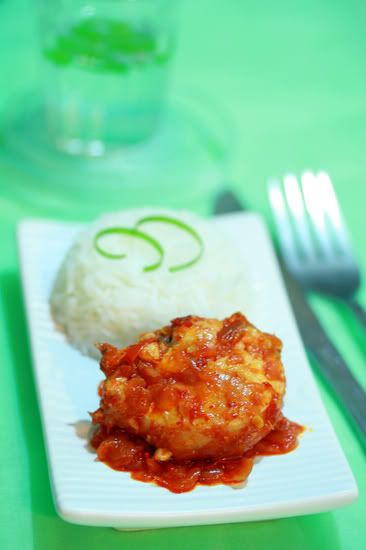 Chicken
My suggestions is Chicken breast, essentially it's indulge!
For delightful presentations it's advisable.
Partially in favour of terrific fun of picking up the chicken bones, may possibly treated.
My self be partial to, it's entertaining and relieved jaws stiffness

Chilies
Dried red chili soak in water to soften, seeded.
Along with it I engaged our savours to an allurement blaze of bird eye chili just to get sting of their fierceness.
Quantities? Dried red chili uses more than bird eye chili, let me say it's actually depending on how much chicken being used.

Note: Do not make too spicy as your chicken madness in context going to turn up in actual fact wild and insane!

Onions
Shallots

(bawang merah)

give you tastiest payoff at the end, red onions could be just fine substitute instead.
Quantities? Plenty

Garlic
If you've got an allergic to it, pay no heed to. Ignore!
As for enhancing the flavour adding just 3 or 4 cloves in every whole breast chicken it is not a big sins though *wink


Tomato
Adding 1 or 2 tomato-diced in every pattern of recipe should be perfect!
Keep in mind, this recipe is not typical of gravies so do not ruins by adding to much tomato in it.
I added one tomato to every pattern, it was giving an excellent return of my required

I believe in you! 110% ! You have had take on board of the earthy ingredients and thought of useful side dish of the day.
So on…let me strolls you to the ultimate final.
Marinating in 60 seconds
Segment the chicken breast into medium size it's the way you should do at first, marinating them with squish of half lime and salt, let it rest in 60 seconds, only!
"Do not being too excited yet or even have a sip of your drink as you have to prepare a pan and heats up with little amount of oil".Shallow fry those beggars, until both sides are just nice crisp
(read: not too crispy)
Once they have finished outreach a fancy crisp, remove from the pan and set aside.

**You are still in hectic zone!
This is the best sort-cut which have been suggested for, while you waiting for the beggars getting a demand crisp, may you would do a little exercise right bellow

Pounding! in the traditional way
Am I too much confident since I've own clay mortar and wooden pestle made from Thailand? Of course I am!
Since this was a gift of my sweet friend "M" and she brought it across the country by bubbles-wrapped them, of course I wont make her in a such rubbish disappointment by not using it at all.

Sorry! I feel my self too much nagging, he he…
Anyway, this is the special key of chicken madness by pounding the spices away to a roughly form. Be careful of your eyes as may splatter around.
Cobek

may used too as it is kind of traditional grinding utensils.

Dine with me!
In a saucepan heat the oil and shirrs the pounded spices over medium heats until fragrant and then add diced tomatoes, season with salt and sugar as you desire.

When the tomatoes are dissolved, it is the time to add in crisp chicken, stir briskly to blend the chicken and the madness spices *wink

Well, at last I don't need to tell you that you need to remove from the pan and serve! Do I?

Table for two, you and me…don't missed the nasi panas (hot steam rice)
I hope you were having fun with me of getting through the recipe step by step, as I really had no idea how to deliver the recipe according to my experience and writing in such ideal way.