Treasured Fried Bee Hoon (Bihun Goreng)
July 04, 2008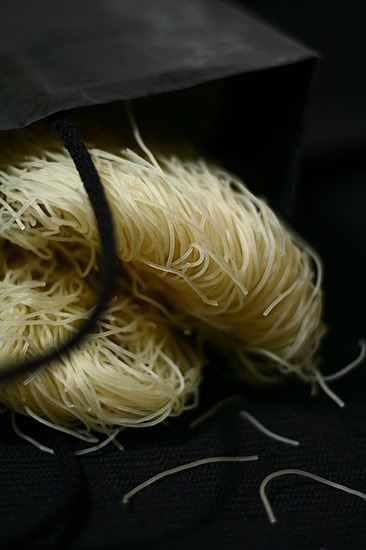 These days I am to be a self-centre of just weightless cooking since rainy season still on.
It is Fried bee hoon (bihun goreng) and rice vermicelli to be main ingredients at the point of taking over our humbly dinner as my self have to finish the meat balls which had sent by friend of mine from Bali.

My preferable this time just cooking simple and express but of course at still delicious apart form adding such a prawns, squids or here I used meat balls and dried shitake mushrooms as my fancy treasured.


I have got few kind of fried bee hoon recipes and my pit stop for my regularly fried bee hoon is relay on this one!

Back to when I ate my first fried economic bee hoon in Singapore, firstly I was drooling at the colour, it reminded me to the most gorgeous shining dark brown.
Apparently without disappointment it was just plain fried bee hoon, however they were pretty tasty to my taste.


An actually of economic bee hoon its really have no fancy treasured in it **don't even expect of it, just coloured bee hoon, later you have got to select your own sides item to companion, such a chicken wings, fried fish cake or fried egg and absolutely got to pay an extra dollars.

Since then I have tried to figured it out how to simply seasons fried economic bee hoon to my homemade fried bee hoon with Treasured, **of course after getting through of so many failure sections.

For me, cooking in a simple way doesn't mean as unpleasant or brings you to an unsatisfied at the beginning until the end of the dish.
It is about how do you take pleasure in it and share with your loved one!
Fried bee hoon (Bihun Goreng)
Ingredients

150gr dried bee hoon (rice vermicelli) soak in hot water to soften
10 pieces meat balls, segment to your choice
3 cloves garlic, chopped
5-6 dried shitake mushroom, soak in water--thinly slice
2 tablespoons light soy sauce
3 tablespoons oyster sauce
1 teaspoon chicken bouillon (optional)
1 tablespoon sweet soy sauce
Dark soy sauce, to coloured
Spring onions to garnish
Vegetable oil
Salt to taste
Water


Method

Heat up the wok with vegetable oil over medium heat.
Add in chopped garlic stir until aromatic and then follow by adding sliced mushrooms and segment meat balls
Add bee hoon, at the same time add little water to keep the noodles at standstill moist.
Seasons with light soy sauce, sweet soy sauce, dark soy sauce, chicken bouillon and salt to your taste.
Stir vigorously until all ingredients are perfectly well blended
Remove from the heat then transfers to a serving dish.
Garnish with slice spring onions before serving
Notes:
Substitute choice of Sea food such prawns and squids are to be other alternative
Adding scramble eggs and choice of vegetables are another thrilling variety
Serve with choice of fresh slice cucumber in rice vinegar season with salt and sugar, brings you to the peak!
Others, perfect them with slices red chilies in light soy sauce as final satisfactions!