Kylie Kwong Soy Sauce Eggs " simply magic "
July 31, 2008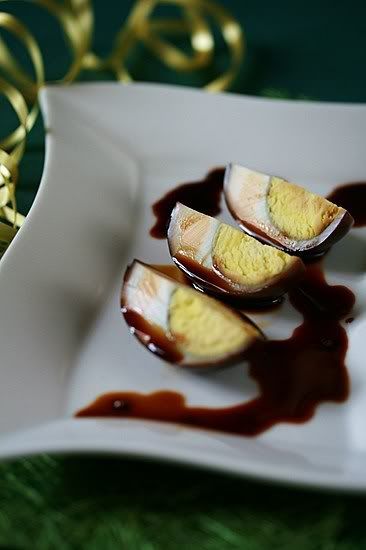 I always enjoy watching Kylie while cooking, she always been so magnetize when she standing behind the kitchen bar, explaining, sharing her tips and cleverness, I just simply love her


Soy sauce eggs, by Kylie Kwong: Simply Magic **today cooking! Kylie I hope you read this **wink



Soy sauce eggs is our desired side dish especially when I served Chinese porridge for my husband, and my self would be enjoy of having it simple-basic-and pure just eating it as the way as it too tempting to be ignore

Its magnificent delicious soy sauce eggs, they really are!
First attempted, it was when we were staying in the south, I really do not wanted to be unsuccessful and disappointed, the fact, I do, it might that I am not cooking with heart and soul like one of her series which I have own the DVD yet becoming my extraordinary treasure, honestly in my taste it was awful, but me and my husband could not resist when I serve them, we were just greedily eating those eggs until terminate to the last.

Apart from it, I do realize that I've been watching the half an hour TV show when she reveal to the world how to cook soy sauce eggs, unfortunately my brain wasn't there, my mind more to desire of eating and drooling, I was so impressed and could not awaiting until the morning have come and starts cooking those beggars (eggs), as I said so, its was error but no waste of food, we eat them, he he

I against of being surrender, I hate of give-up, I do!
Actually, today cooking is to surprised my husband, my idea of cooking is porridge which is in his favourite, serve with slice bird eye chili in light soy sauce and toppings with crispy ikan bilis a.k.a ikan teri (dried anchovies) as side dish are soy sauce eggs and braised salted vegetables. Surpriseeeee…!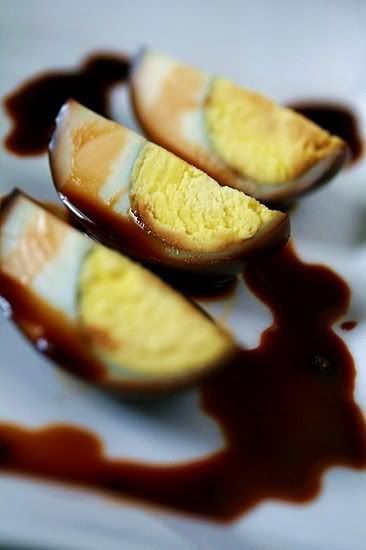 And guess what!? I have finally found her on line recipe, goodness gracious…
**Kylie you made my day, Please click here folks!
I do sorry that I twisted just little bit of your creations to be my formations, I hope you would not be mad at me because cooking is about passion, creations, twist and taste *wink
I've just substitute your light say sauce to be your pattern to my Chinese cooking wine to be my preferable.
I purposely made the eggs colour is darker than yours, because my husband going to serve the sauce over the porridge, its worth than discard he sauce, too gorgeous!

Now after how many trials and errors, I don't remember of counting , rather not bothering me, Finally today is my happiest day of cooking Kylie Kwong : Simply Magic, Soy Sauce Eggs


Soy sauce eggs
Adapted from Kylie kwong: Simply Magic
½ dozen hard boiled eggs (6 pieces)
3 tablespoon dark soy sauce
½ cup brown sugar
3 tablespoons Chinese cooking wine
7-8 slices fresh ginger
1 ½ cup of water
In the small heavy base saucepan combine water, dark soy sauce, Chinese cooking wine, brown sugar and slices fresh ginger, bring to the boil for 1 minute.
Reduce the heat, add the eggs and simmer, covered about 45 minutes or until the stock reducing about ¼ of the stock, its actually to create your delicious sauce
Remove saucepan from stove and set aside, covered let it stand for 30 minutes, Remove eggs from the saucepan, reserving 1 tablespoon of the braising stock for garnish.
To serve, cut each egg in half lengthways and arrange on a platter.
Spoon over reserved braising stock.