Rasa Malaysia Sambal Ikan Bilis (Malaysian style dried anchovies sambal)
July 30, 2008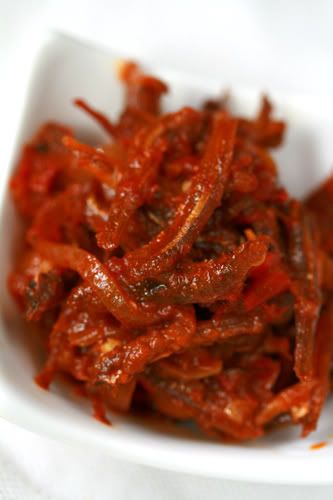 Sambal ikan bilis (malaysian dried anchovies sambal)
Its actually to accompany nasi lemak (malaysian coconut milk rice)
Nasi Lemak is the de-facto national dish of Malaysia. Nasi Lemak is usually served in the morning as breakfast. The toppings include anchovies sambal, hard-boiled eggs, fried fish and shrimp. Other common toppings include roasted peanuts and cucumber slices.
(by Rasa Malaysia)
She's one of a great cook I have ever known, she share her truly authentic Malaysian cuisine and I have no doubt to her Malaysian recipes.
This is the trustworthy sambal ikan bilis ( dried anchivies sambal) that I have been relay on for My homemade Malaysian Nasi lemak
I followed her recipe exactly, the fact, only the steps which refer to
"Rinse the dried anchovies and drain the water. Fry the anchovies until they turn light brown and put aside",
instead of frying,
I
rubbed the dried anchovies with oil all over and put them in the oven until turning to light brown

.
Instead, I pounded away all the spice ingredients as her thought that nasi lemak deserves better, deserves to be prepared in the traditional way.
As my mortar and pestle is a gift from my Thai friend, the mortar made from clay and the pestle made from hard wood
(kruk in Thai)
I wouldn't be wonder anymore how to make the
Sambal Ikan Bilis,
somewhat it's no longer remain as off the record recipe.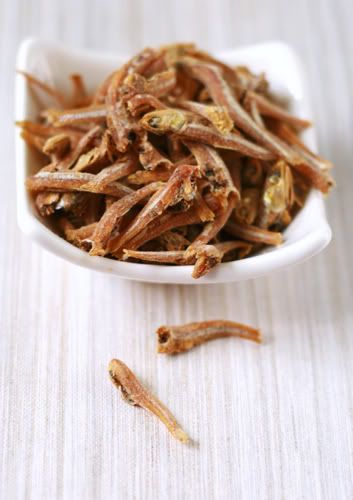 Thank you for sharing the recipe RM
Click here of her nasi lemak, a truly Rasa Malaysia dish, including her

Sambal ikan bilis

which I've been succeed to present in my dining table.

Click here for other ikan bilis recipe of mine