Saos Gado-gado / Gado-gado peanut sauce dressing
July 19, 2008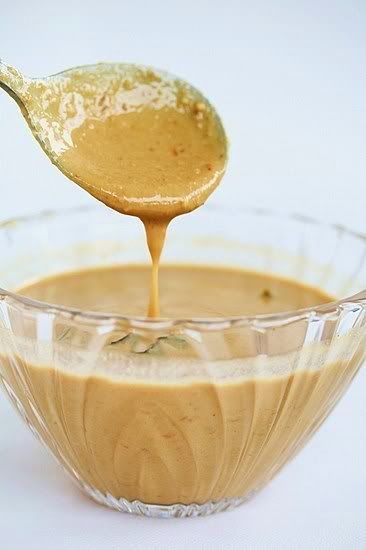 Gado-gado is a popular classic cooked mixed vegetables salad in Indonesian cuisine.
It is widely served in the restaurant, hotels even its humble sell by street hawker in Indonesia.
The peanut sauce dressing of gado-gado I consciously bring to the fore as preparing the blanched vegetables for gado-gado is deeply easy, I would say that left over vegetables in the fridge can be used either as gado-gado is a pretty flexible salad

There are many varieties of gado-gado peanut sauce dressing recipes but I have to ignored making the peanuts sauce which is use of ready made peanut butter as my self really adore my mother way of making succulent, wonderfully and drooling peanut sauce for Indonesian gado-gado.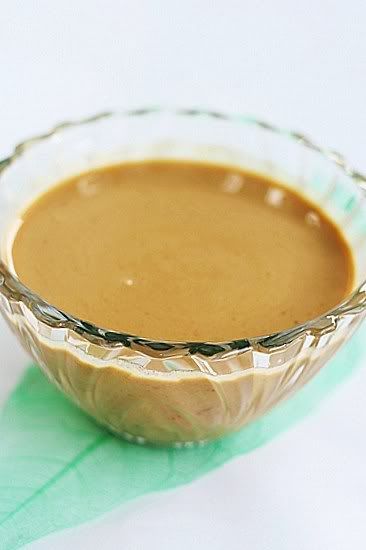 Gado-gado peanut sauce dressing

Igredients

75g roasted peanuts, skin removed

75g salted-roasted cashew nuts

150ml coconut milk, fresh or tin

4 cloves garlic

2 red chillies, deseed

2 kaffir lime leaves, torn

¾ cups grated coconut sugar, substitute palm sugar

1 tablespoon vegetable Oil

Salt to taste

Water


Directions

Grind roasted peanuts and roasted salted cashew nuts

Combine crushed roasted peanut and cashew nuts along with coconut milk and water, whisk in well--make it just right consistency

Put the contents into a blender then process to a smooth sauce

Pour the sauce into a pot, add torn kaffir lime leaves and bring it into a gentle boil stir occasionally

Meanwhile grind the garlic and red chili to a smooth paste, fry it with little oil until fragrant.

Add fry fragrant garlic and chili paste into a gently boil peanut sauce

Seasons with salt and palm sugar then set on low shimmer, keep stirring until palm sugar are perfectly dissolved and thicken

Removed from the heat then transfers into a container

It's ready for gado-gado peanut sauce dressing

Can be kept in the fridge for a week or so