Hunger-craved Crispy fried Snapper serving with Indonesian Sambal Terasi
June 03, 2008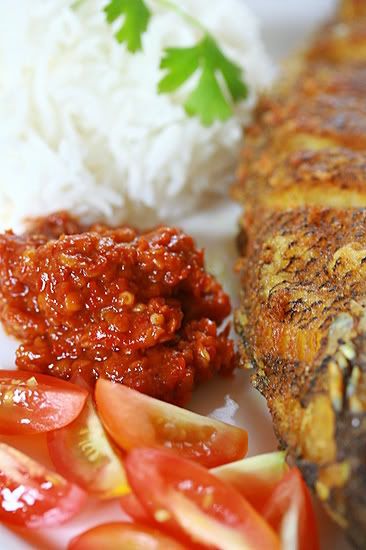 Fried fish is always paying an extra treatment to our lunch and it's more attractive if it goes together with my Indonesian style sambal terasi.

Picked up a medium size snapper in the local fresh market yesterday was totally unplanned as sale was going on that day. They were nicely array as the peddler expected all the fish are sold out, seeing as the rains have not stopped downpours from the skies.


what a comic story, after I got it on sale then
I have to crispy-fried
poor fellow..

Seems pretty out-standing if I twist to a luscious steam fish with gingery aromatic and sprinkle with sesame oil, it was my plan! Since we both craved for an Indonesian sambal go along with it unfortunately the plan other wise changed.

"Crispy fried those beggars then dip it with the famous Indonesian sambal terasi, ha ha…" it would be brilliant idea whichever fulfilled our hunger-craved.

**although not to worry since we don't care presented a whole snapper freak out on our dining table, had it, even as the bones are pretty irritated, ha!
Crispy Fried Snapper

Ingredients

400gr snapper, scale and clean then score the flesh
½ teaspoon mix ground white pepper and black pepper
½ teaspoon Turmeric powder
Sea salt to taste
Oil for frying

Directions

Rub all over the fish with salt, turmeric powder and mix ground white pepper and black pepper.
Let it stand about 15 minutes to absorbent the ingredients

Heat up the pan with oil over medium fire, once its heats up carefully place the fish over the hot oil--aware may the oil splatter around.
The oil should cover half of the fish-it would sufficient to make the fish crisp enough.

Turn over cautiously once at one side get done crisp **both sides should be in golden brown and crisp.

Remove form the hot pan the serve hot with steam rice, Indonesian sambal terasi and fresh cucumber if its available
Notes:
If you are comfortable of deep-fried, may you got to do it!


The second part of our outbreak-lunch with "the famous Indonesian sambal terasi" will be right back after the jump...