Kolak an equivalent sweet soup of classic Indonesian dessert
May 21, 2008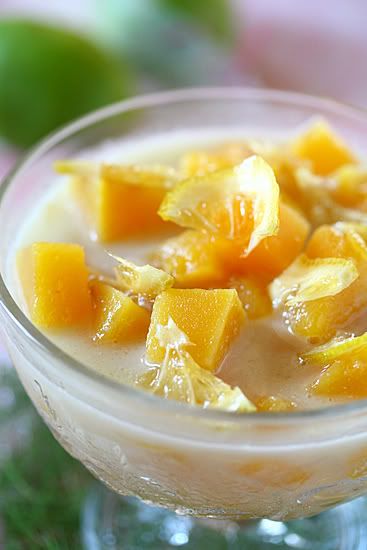 Kolak is very popular as classic Indonesian dessert, in fact it's usually eaten as appetizer instead, it's could be serve warm or chilled somewhat I prefer chilled.
To give the soup which made of coconut milk more appetizing fragrant and flavour we used to add in pandanus leaf, there are also some various maker of kolak have a preference adding jackfruit if its comes to a season as wish-for to get more mouth-water equivalent sweet soup as a dessert.
To be honest I am not a huge fans of sweet-tooth the fact I do love dessert but if it contains too much sweetener, I would rather have something else which in sourish.
I feel like to have chill Kolak labuh kuning (Classic Indonesian sweet pumpkin soup) as my company of my late afternoon, having it peace while watching some program on TV oh! "Please don't compare with your lime sorbet or I will go for both" wink..
I had little puzzled with my pumpkin past few days ago, it just sitting nicely in my fridge before I decided to make "Pumpkin Kolak"Thinking of pumpkin pannacota, but I had no cream stored, going to get it? I was so lazy knowing today still in summer time--too hot outside like in the oven.

However Kolak is the best choice as my craving for Indonesian dessert back then.
As I said so that I would have just equivalent sweetener to my leisure time dessert, I purposely cut down the sugar to my Kolak and substitute with organic honey.
Adding up thinly slices of lemon into my organic honey it's such a great idea ever comes to my head. Hope that you can picture at your present place now, he he…
Kolak labuh kuning


(Classic Indonesian pumpkin sweet soup drizzle with honey lemon)


Ingredients
400gr pumpkin, cut into medium cubes
200ml thick coconut milk
800ml of water
½ teaspoon sea salt to taste
2 springs of pandanus leaf, torn with fork then tie to a knot


Directions
In the deep pot mix coconut milk into the water season with sea salt, stir well then add pandanus leaf and cubes pumpkin.
Heats the pot up which containing the ingredients above over medium fire, stir frequently and gently to avoid coconut milk gets lump about 20 to 30 minutes or until the pumpkin get soften but not too soft.
Off the fire let it cool then transfer into a container,
refrigerate to chilled
Honey lemon drizzle


1 1/2 cups organic honey
1 medium size lemon

Wash the lemon then thinly slices, add into organic honey and let them stand about 30 minutes or awaiting your kolak about to chilled

Serving

Scoop out the chilled kolak into a serving dessert bowl.
Drizzle with organic honey lemon about 1 tablespoon,
Actually it's depend on how much sweets you want to be