Desirable Squids, Morinaga Tofu and shitake mushrooms ever!
May 28, 2008
Adore to somebody foods and recipes it's a natural feeling, being fond of it--eager to it, I believe you would illustrate of the best sensation food you ever tasted before!
Since then, I was pretty often without hesitation and humbly polite asking of other people foods especially the recipes, how to make it and what the trick is, even though I felt the person who I asked for is appear being innocent speechless--kind of blur where it has to start from.

Shall we sitting together and let me know what it is all about?
I'll stick my memory on rather than piece of paper *wink
Anyway there is a friend of mine always being kindly and compassionately about his flawless foods especially typical authentic Chinese food. Since last 2006 we have separated by the ocean, he and his wife have to moved out to other country for other job but our regularly conversations subject via chat messenger is **Foods and beyond **wink! Thanks to you Jo! I have never imagined how I can modify the recipe without your original one! And it was absolutely indeed.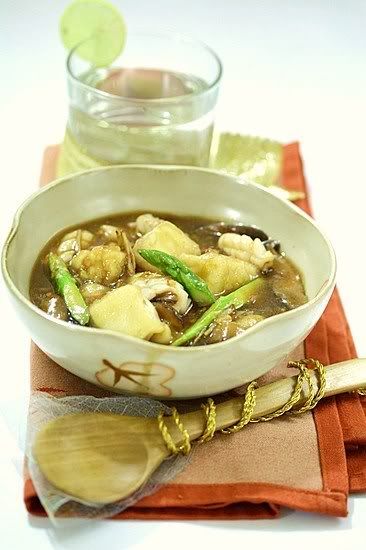 Squids and coated M
orinaga Tofu in Gravy
Ingredients
200gr squids
150gr Morinaga tofu (substitute silk tofu)
4 dried shitake mushrooms (soak in water, thinly slices)
6 pieces asparagus cut to angle lengthwise (optional)
1 red chilli, deseed thin slices
2 tablespoons oyster sauce
1 tablespoon light soy sauce
2 tablespoons rice wine
1 teaspoon fish sauce
½ teaspoon ground white pepper
3 cloves garlic, finely chopped
2cm ginger into Julianne
2 tablespoons Vegetable oil
1 1/2 cups of water
Salt and sugar to taste
Corn flour to thicken and coated.

Directions

Clean well the squids-removed the skin off-score the flesh to a pineapple skin pattern, set aside

Cut off Morinaga Tofu into medium size cubes, coat them one by one with corn flour and shallow fry them--handled gently as it too delicate. Set aside.

Meanwhile heat the wok over medium heats, fry ginger Julianne to crispy brown then add garlic--stir together until aromatic

Increased the fire and then add the squids-when the thing starts to curls add shitake mushrooms-stir well.

Seasons with ground white pepper oyster sauce, fish sauce, light soy sauce, rice wine salt and sugar to taste--do a very quick stir!

Add asparagus (optional), keep stirring.
Add the water, let it boiling for a while then thicken with corn flour mix with water.

Add coated Morinaga Tofu and gently stir
Remove from the heat then transfers in to a serving plate.
Serve hot with steam rice.