Salted Dried Mackerel In Aromatic Spice
April 13, 2008
Cooking typical Thai food is quite interesting, besides involved spiciness which is in my liking, the other hand is the appetizing aromas manipulate my hungriness.
My recipe basic today is a Thai Southern styled dish which i got from my Thai food cook book collections by Khamtane Singnavong.
In the original recipe mentioned Tai pla sauce to be important ingredients which written "Tai Pla is an pungent, salty sauce made from fish innards fermented in barrels with salt over the year" therefore I concluded that this particular sauce has very strong fish flavour and it written as well that tai pla sauce is usually cooked in a very spicy taste to reduce the fishy smell. Imagine of spiciness, fish as supportive ingredient and veggies also taking a role in the recipe, I could not handle my inquisitiveness honestly.
Revealed some notes in my book either that we don't need to make the sauce-just look for a bottle at your local Asian grocery store.
I know... I know, it is impossible for me to get "tai pla sauce" here (in my place), hence I transformed the recipe to my method which is I substitute "tai pla" sauce with common ingredients in my personal dry store and especially Indonesian spices instead.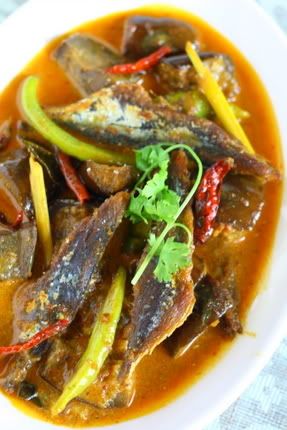 Salted dried mackerel to be my choice for recipe today as home made, here is particular exceptional.
Salted Dried Mackerel In Aromatic Spice
Ingredients

6 pieces dried mackerel, remove the head and wash well-shallow fry to crispiness
4-5 pieces aubergine cut into medium chunk
½ cup fresh thin coconut milk (substitute milk)
1 tablespoon fish sauce
3 cloves
3 fresh or dried big red chillies
3 fresh green chillies cut into two
4 dried small chillies, optional
1/2 teaspoon grated lime rind
½ teaspoon turmeric powder
1 lemongrass stalk, cut into 3 inches
3 kaffir lime leaves, torn
1 teaspoon dry mango powder (substitute tamarind juice)
Vegetable oil for fry
Castor sugar to balance
1 cup of water

Directions

Using a blender, grind the garlic, lime rind and red chillies in to a paste
transfer into a small bowl then mix in the turmeric powder,
dry mango powder (tamarind juice) together.

Add vegetable oil in pan, heat up over medium fire add the mixing paste add in lemongrass, kaffir lime leaf, stir fry until aromatic.

Add a cup of water, let it boil then add aubergine and dried chilli stir occasionally, until aubergine are soft enough.
Season with fish sauce, castor sugar and continue to stir.

Add thin coconut milk and fresh green chillies keep stirring.
Lastly add shallow fry dried mackerel, stir well and briefly about 30 seconds.
Remove from the pan, serve hot--for 2
Notes.

While shallow-fry dried mackerel mind the bone as mackerel has very fine bones.
(Pick carefully the fine bones)
If dried mackerel unavailable, substitute with other kind of fish as your choice, (deep-fried to crispiness)