Click: AU NATUREL ~ Brussles Sprouts
April 26, 2008


It was about four years ago when I experience Brussels sprouts by hold in the eyes at Bali Deli, Bali-Indonesia.
They were place nicely in the pretty translucent disposable plastic box in the cold-storage segment. Seeing them in most cute rounded shape and fresh light green, wondering me what kind of vegetables they were? Somehow my curiosity was bigger than my thought so when I took hold of the box it was written the vegetable name "Brussels Sprout" other additional information in the label was refer to an Organic vegetables, to be honest at that time I had no clue what is organic **big question mark.
I was full of activity in my work, don't even bother peeping what's going on in the kitchen absolutely free from cooking either. Truthfully I got to tell you that I was ZERO in cooking even medium ZERO how to handle the kitchen, sigh!!
enjoying my life by consume food out side not healthy home cook food to be frankly was a big big mistake and waste of my time--it was torn my sense away knowing where I am standing now is such wonderful enjoyable by having food at home and cooking it my self.

Well, I have learnt from the past that how incredible spent time in cooking, standing behind the kitchen bar, find out what kind of food we like-discovering so many selection of wonderful recipe in the world and have a great fun created our own recipe to be dish up then showing off in our dinning table, hmm… such a incomparable satisfactions.
I would never know before that being in the kitchen of cooking is happiest and cheerful part to get trough the day. Don't you think so??

Putting my self especially my heart in cooking makes me have some acquaintance to be proud of and the most valuable part is the meaningful of Organic stuffs, ha ha…




Catchy my picture above of "Half soul Brussels sprouts" is my deliberate for CLICK event host by brilliant Duo--Bee and Jai at Jugalbandi.
All about April theme AU NATUREL click here and for the entries please click here.
Let's CLICK and show your idea, Have fun guys!!




Back to the kitchen,

My first style dealing with this little cutie rounded shape Brussels sprouts was stir fry with dried anchovies and the second one by sautéed with lemony onions and dried prawns, it was too good and matching with my fussiness of the day.
Maintaining the crunchiness still remain is my primary demand of cooking Brussels sprouts even most of people said that Brussels has slightly bitter taste, but who cares, I love it!!

I have cooked and combine them with sparkling classic Javanese style peanuts sauce as we used to call as "bumbu pecel", since I lived abroad therefore I wont be able to buy ready made one, for this reason I had transform according to what existing spices where I am now.




There is a specific Indonesian spice which is significant ingredient to make bumbu pecel just right we called it kencur or laser galangal in English.
Since I do not have it here, I did alteration of "bumbu pecel" to my own peanut dipping sauce although I have done it in a very simple way, gladly it was taste good **not over confidence though, he he…
By steamed and sautéed Brussels sprouts serve with my humble delicious peanut sauce, I would say that they are such a great combinations as appetizer, ever!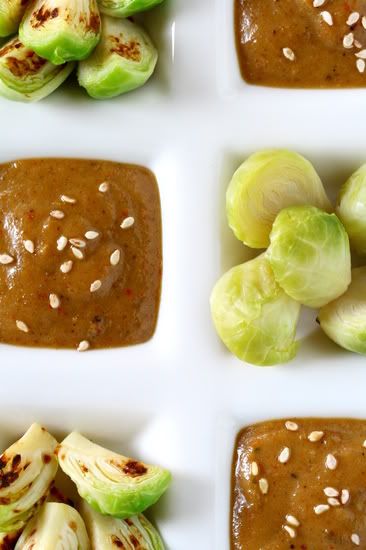 Steamed and sautéed Brussels sprouts serve with Sparkling peanut sauce

Ingredients

250gr Brussels sprouts
Little olive oil

200gr roasted peanuts, removed the skin
2 cloves roasted garlic
2 large red chillies (I used Kashmir dried chili), deseeds
2 springs lime leaves, removed away the vein in the middle part-finely slice
1 teaspoon dried mango powder
25gr coconut sugar (substitute raw sugar or palm sugar)
½ teaspoon roasted belachan (shrimp granules)
Salt to taste
Water to mixture

Directions

Using a blender, grind all the ingredients above then add just enough water.
Puree to a medium smooth texture--try to make the consistency not to watery, transfers into a serving bowl.

Steam half of Brussels sprouts then halve them.
Quartered then Sauteed other half of Brussels sprouts with olive oil
Serve with peanut sauce as appetizer